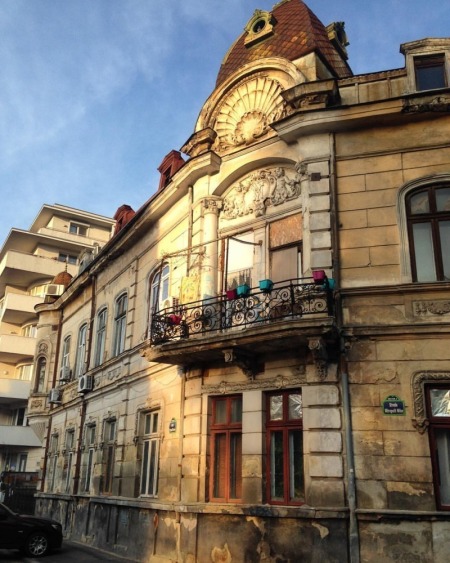 One mild autumn day I was running through the streets that managed to escape the massive demolitions for the civic center in the 80es. These streets once flowed from northwest towards southeast and are all suddenly cut off at weird angles by an axis that was once supposed to become a new Champs Elysees – just longer and, well – national style.
Some fabulous houses are hiding behind the curtains of blocks built on both sides of the axis. I'm trying to run a pattern that follows the old streets and interferes with the curtain of blocks as little as possible.
From one day to another, houses standing in the way of the axis  and their people had fallen victims to the ruthlessness of a system whose shadows are hanging heavier today than anyone ever thought was possible. Sometimes I'm running behind a massive continuous curtain of blocks of flats and looking the other way, where the houses are still standing, like stunned. Falling into decay more and more with every passing season, it seems they escaped earthquakes, wars and the razing of the Uranus neighbourhood, but will hardly survive the 'eternal transition' that followed in the next decades.
Cars are parked diagonally along the blocks, the streets looks deserted, it's Saturday, people must be at home, cooking, or at the movies, at the mall… On a street, three guys are trying to get open the back door of a car with a metal ruler and a stick. I pass them closely. One is drinking some energy drink from a can; they look rather miserable in their attempt to get the door open. I'm sure one of them is the owner and the others are helping him.
At the corner, I wonder – it's broad daylight, we're on an otherwise busy street, so what are the chances… I run back in a spiral around the guys and smile at them, 'So, it doesn't seem to be working, does it? D'you manage?'
One turns a ruddy primitive face towards me 'We're stealing here, stealing, see?'
No shame, no menace…nothing.
I run away completely dumbfounded, wondering what to do. Around the next corner is a guard's house, the parking lot guard…it's empty. Should I stop and take a picture? – I could've, if I hadn't pushed my luck earlier, unknowingly. I run to the next crossroad, past an old couple and a drunkard. Past a guy who's throwing me a flirty glance, while menacing someone on the phone. No police at the crossroad, I'm almost home, they've probably broken in by now and I'm scared.
I'll be home soon, in a safe place that's not going away anywhere soon. I don't even have a car anymore, where they could break into. A cab driver fell asleep and crashed it to smithereens one month ago. This is a menacing place for me, I realize.
Lost Bucharest – from the book "Bucureştiul dispărut" by Gheorghe Leahu
Later edit: More powerlessness: a flat in this house was bought with very political combinations(RO).