Back in the eighties when I was a kid, my originally Swiss great grandma lived in the ground floor of our house. Together we'd bake these wonderful Christmas cookies "from home", as she said. First she'd roam around the markets for a few days and obtained some eggs, some flour, margarine and sugar. Sometimes she'd even get a lemon! For the zest.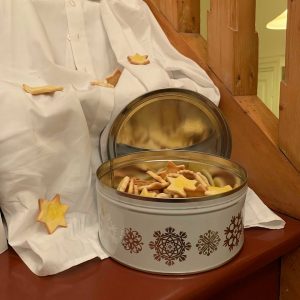 She'd prepare the dough and leave it in the pantry overnight. Then we'd spend the whole next day in the kitchen kneading, rolling and cutting dough. We'd bake little stars, hearts and …plusses.
I later learned that the "plus" was actually the cross from the Swiss flag. Once cooled down, we'd put the cookies into 2 tin cans and I'd get to take one upstairs to my parents.
When I came downstairs once she asked me, "So, did mom and dad like them?" "I like them" was my answer. Only then she realised that not many cookies ever made it to my parents'.